A comfort object can be an important part of a toddler's emotional development. It can also be quite amusing, depending on the object.
We never experienced comfort objects with Thing 1. He isn't really the sensitive, emotional type. We're lucky when we get a goodnight hug from him. Thing 2 is the opposite. He'll randomly walk up to someone, anyone, and give them a hug. He also has quite a stable of comfort objects.
Since he was a year old, he has slept with a "night-night". What is a night-night? It is one of daddy's T-shirts. He uses one or two as a pillow, and another as a blanket. And, since his nose is always running, by the morning the night-night is covered in snot and needs to be washed. So, as a result, I never have a clean T-shirt to wear.
Right now, another of his favorite comfort objects is this two and a half inch character that came as the driver in a toy dump truck. What you and I would call junk, Thing 2 affectionately calls Mustache Guy. When I pick him up at preschool, the first question he asks is "Where is mustache guy?" Lord help me if I don't know.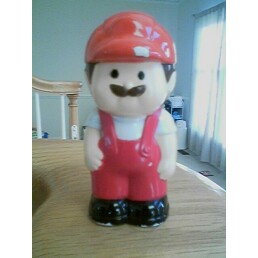 Mustache Guy
Also very popular right now are baseball hats. He wears one pretty much all the time. Even while sleeping. Like I said, comfort objects can be amusing. As long as you don't lose them.
What comfort objects does your toddler have?