If you are like me, bedtime is a battle that is waged every night. Go upstairs, put on your pajamas, brush your teeth. It's like a broken record and nightly negotiation.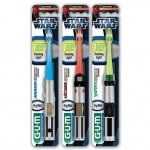 That's why I agreed to try these new Sunstar GUM Star Wars toothbrushes. (Disclaimer: I received free product but as always opinions are my own). There were Darth Vader and Clone Captain Rex battery powered, spinning brushes. But the most popular were the Light Saber brushes that glow and blink for a minute while they brush.
Anything that lights up is cool to Thing 3. Something that lights up AND he puts in his mouth? Sold. He opted for the good guy, green colored one. Thing 2 went with the red, Darth Vader light saber.
The results? Thing 2 asked if he could brush his teeth again once he saw the new brush. Thing 3 doesn't think a minute is long enough and wants to go for two. And he insists on brushing his teeth with the lights off now to see the Star Wars toothbrush glow. How long it'll last I cant say, but those are sone good results.