I had very low expectations for potty training Thing 4 given our history. But girls are supposed to be easier so there was hope.
Last weekend, we decided to do a potty bootcamp. Thing 4 helped gather all her diapers into a garbage bag and we threw them all away. At least that's what she believed. I put them in a safe place just in case.
She picked out some favorite underwear and the training began. We got off to a shaky start. She was holding it as long as she could out of fear of the potty, and we ended up with a puddle on the floor.
But we persevered. And after that one incident, Thing 4 had a flawless record for the rest of the weekend! No accidents. Telling us when she needed to go. Pee and poop. Simply amazing. Completely potty trained in one day!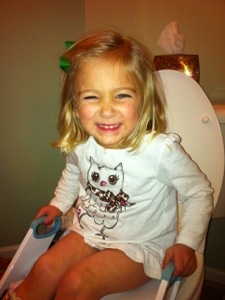 We celebrated with some frozen yogurt.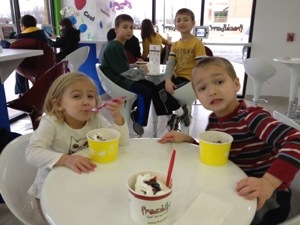 I started thinking about how long and how many diapers we have used. We have had at least one kid in diapers for over 9 years. By my estimates, we have gone through at least 30,000 diapers. And now we are through it.