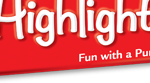 Remember Highlights Magazines when you were a kid?? I remember reading the old beat up copies at the pediatrician's office.? One of the features was a puzzle where pictures were hidden in a page and you had to find them.? There were always kids who would color in the pictures as they found them, ruining it for everyone else who came after them.
Now there is a modern take on the old classic…Highlights Hidden Pictures on the iPhone!? Highlights My First Hidden Pictures is a full-color version of the award-winning Highlights Hidden Pictures game for the iPhone and iPod Touch.? It's designed with younger children in mind. Have fun solving the eight Hidden Pictures puzzles included with purchase plus the additional puzzle packs available.
I let Thing 1 and Thing 2 check it out.? Both were very interested at first.? I had to briefly explain the object of the game.? Thing 2 liked the sound effects and vibration when he correctly found an object.? But the game was actually kind of difficult for them.? The screen on the iPhone is much smaller than it would be in the magazine.? So the objects are either really small, or you need to zoom in and can't see the entire puzzle at the same time.? They each got partway through one of the puzzles and then gave up.? I think kids a few years older would have more attention span and enjoy it.? Then again, I still think the old version in the magazine that I used to play is better.? As long as some other kid doesn't color them all in first.