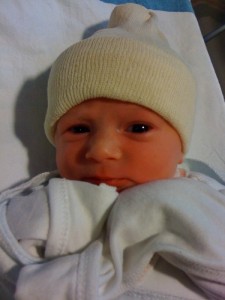 For those of you who have been following SuburbanDaddy for awhile, I'd like to introduce the newest addition, Thing 4! I'm not sure which is bigger news – that there is a Thing 4, or that Thing 4 is a girl.
I'm happy that with three older brothers she will be very well protected in her teenage dating years. Forget about the nerves a teenage boy will feel having to face questions from her dad, SuburbanDaddy, for the first time. How about the gauntlet he will face going through Thing 1, Thing 2, and Thing 3.
Thing 3 already needs to be restrained if you try to take away his milk or Buzz Lightyear toy. Image what he'll do if you make his little sister upset. Of course, with three older brothers, she will probably be pretty tough herself.
Over the next few months, I look forward to sleepless nights, spit ups, and lugging around baby gear. I also look forward to a whole new set of material that I can write about here. That's the real reason we added a Thing 4.