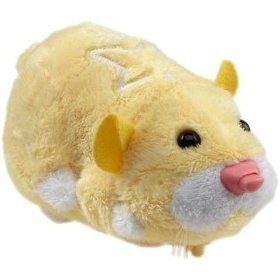 I have yet to see one of these things, or have one of my kids ask for one, but Zhu Zhu Pets are the undisputed hot toy of the year.? They are flying off the shelves like Cabbage Patch dolls and Rubik's Cube back in my day.
Now, there is talk of a safety concern about Zhu Zhu Pets.? And there is even a rumor that there may be a recall of Zhu Zhu Pets soon.? Right before Christmas!
Well, SuburbanDaddy has his own theory about this brewing scandal.? You know how I love a good controversy or conspiracy theory.
We all know how crazed parents can get during the holidays, trying to find a sold out toy to give their kids for Christmas or Hanukkah.? Politely give up your parking space at the toy store?? Are you kidding?? That's one more person who will get to the toys before you.? There was a movie made about just this scenario with Arnold Schwarzenegger called Jingle All The Way.
That's why I'm thinking there is a crazed parent behind all this talk of a recall and unsafe toys.? What better way for a parent to be able to find a Zhu Zhu Pet than to start a rumor about a recall?? All of a sudden there will be parents trying to unload their toys before Christmas faster than the executives at Enron dumped their company stock.
It's brilliant.