The iPhone is a great investment if you have kids.? Forget about all the cool features you'll want for yourself.? Your kids will want it more.? And all the games available will come in handy when you need to keep your kids occupied and quiet for an extended period of time.
There are some really great games for kids.? Thing 1 likes to play Checkers.? Thing 2 likes Sound Box, where you press a button to hear a "whiney dog" or a "cuckoo clock" sound.? I won't let Thing 3 touch my iPhone because, well, that will be the last time it works.? Best of all, most of these basic games are free or almost free.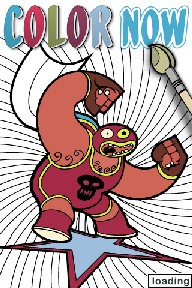 Today I had Thing 1 and Thing 2 try Color Now.? Color Now is a unique application that takes coloring books to the digital era.? Kids and kids-at-heart will be able to add color to artistic images using a vibrant palate of paints.? Once they?re finished, they can save their finished masterpiece and use it as wallpaper on their iPhone, print it or send it to friends via email.? There are 12 images to choose from.?? The image here is one example.
The concept is good enough. But I have to say it didn't translate well to the small iPhone screen and would probably work better as a full desktop application.? Thing 2 had trouble selecting the colors and shapes on the screen.? At 4 years old, he can't quite get the hang of the iPhone reverse pinch zoom.? Thing 1 was able to manuever better but he said it wasn't a game "because there was no winner at the end."? He's very competitive.