Let's face it — laundry has to be one of the all-time worst chores.? It's never ending and as soon as you think you've caught up, it's time to do another load.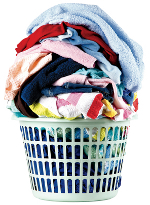 That's why I agreed to try out a new product called Purex Complete 3-in-1 Laundry Sheets.? Any product that claims to improve the laundry process I had to see for myself.? It's a detergent, softener, and anti-static all in one? sheet.? You put into the washer and the detergent part gets washed off with the water.? Then transfer with the clothes to the dryer and it's a regular dryer sheet.
I was a little skeptical at first.? It's not like doing laundry with a separate detergent + dryer sheet is all that difficult.? Do we really need an all-in-one?
I did a couple loads and it lived up to it's promise.? Clothes were clean, soft, and static free.? The end result was no better than what I usually get, and we're probably not going to make a switch just yet.? But I can see the benefits to the all-in-one concept.? These would be great in a college dorm, when travelling with the kids, or whenever space is limited.