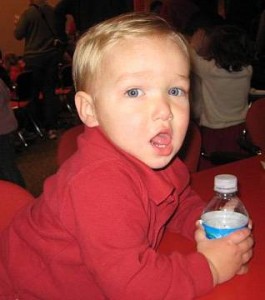 Those of you with kids in daycare will know what I'm talking about.? Each day, we get a report of Thing 3's activites:? what he ate, when he slept, when he pooped, the new words he learned, and his general mood.
Usually, the daily report is pretty standard and I just skim through.? On some days, there is a second report called an Incident Report that I must sign to acknowledge receipt.? There are generally three situations that can result in an incident report for Thing 3:
1. He had a self inflicted accident. These are pretty common as toddlers are always climbing, falling, and bumping into things.
2. He had an accident that was caused by another kid.? Someone pushed him on the playground and he got a bloody nose, for example.
3. He was the cause of someone else's accident.
When I see the Incident Report, I anxiously hope for #1 or #2.? Thing 3 gets so many bumps, scrapes, and?bruises, either on his own or with the "help" of his brothers, they don't worry me anymore.? And I know if the accident was more serious, they would have called us during the day instead of waiting until we came to pick him up.? The last thing I want is for my kid to be the cause of someone else's incident report.
Unfortunately, this was the case yesterday.? One of his friends took a toy from Thing 3 without asking.? Not that it would have mattered if he had asked, the answer would have been no.? At 20 months sharing is not his strongest suit.
So Thing 3 bit him.
In my mind, I can rationalize this type of incident report.? At least my kid wasn't the instigator.? Sure, he shouldn't have bit him.? But the other kid shouldn't have taken the toy, right?