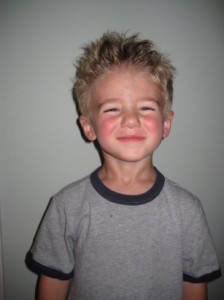 The terrible three's are upon us.? I don't care what they say, the supposed terrible 2's are nothing compared to the strengthening will and independence of a three year old.
I don't know if it will quite reach the level we went through with Thing 1, but it is starting to look very familiar.
Thing 2, who used to love taking a bath and getting wet, now refuses to step foot in the bath tub.? We've reached the point where he will at least stand in the tub, but it takes a lot of coaxing.
I took him to get a haircut yesterday and it may as well have been the first time.
You're hurting me! he screamed at the poor woman trying to distract him with a lollipop.? He ended up getting his haircut standing up, in the middle of the barber shop, while I held his arms down and everyone looked on in half amusement, half annoyance.
A typical weekend now involves at least a half dozen tantrum to time out cycles.? The time outs are getting longer and more difficult.? This weekend he pulled the doorknob off his bedroom door as a sign of protest.
The problem with Thing 2's tantrums is, even when he is in full meltdown, he is still so funny and we need to keep ourselves from laughing at him.? Just try to keep a straight face while looking at the picture above.? For more evidence, see him riding in the car or posing in front of the mirror.
Ah yes, the terrible three's.? Only about a year to go and he'll be four.? Of course, then Thing 3 will be about to, you guessed it, turn three.